Millie Kahane's Estate-Plan Gift to Support Endowed Scholarships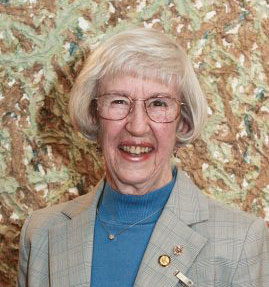 Mildred Loughlin Kahane '49 was the first in her family to go to college. Her attendance at Adelphi was made possible by a scholarship. She was one of the University's original U.S. nurse cadets and went on after graduation to provide medical assistance to the armed forces.
Mildred, known affectionately as Millie, continued to break boundaries throughout her medical career. In addition to working for Kaiser Permanente in Sacramento, California, and serving as a faculty member at UC Davis, where she helped develop the nurse practitioners' program and was one of the early pioneers of community health nursing, Millie was one of the first school nurses in the newly established state of Alaska. She served as the first executive director of the Alaska board of nursing.
A true trailblazer in her field of community health nursing, Kahane credited her scholarship with enabling her to earn a degree and fulfill her career aspirations. That gratitude was the impetus for her to pay it forward, supporting Adelphi and its students by establishing several endowments in her lifetime.
Upon her passing in September 2020, Adelphi was the recipient of a one-million-dollar gift from the Kahane estate to be divided among three nursing scholarships—two that were founded by Millie and a third, the Peggy Ann Burleigh Scholarship, that provided the support Millie herself received as a young Adelphi student.
With applications for Adelphi's College of Nursing and Public Health at an all-time high and the critical call for public health professionals in light of the ongoing pandemic, Kahane's gift will give a future generation of nurses an opportunity to earn an Adelphi degree.
"During the height of the COVID-19 pandemic, I was in awe of our nursing students' determination to be caregivers on the front lines," said Christine M. Riordan, PhD, president of Adelphi University. "They were passionate about being part of the solution that people, our communities, and the health care system desperately needed. Millie Kahane's gift will help support that drive in our students. It's an inspiring legacy to leave."
© Pentera, Inc. Planned giving content. All rights reserved.
Disclaimer
Amy Harrison
Executive Director of Gift Planning